Beach Party Spring Golf Tournament
Monday, May 15, 2023 (9:00 AM - 3:00 PM) (PDT)
Description
Beach Party Spring Golf is now sold out of regular golf foursome spots and Tee Box sponsorships.
Other sponsorships limited, Please contact Angela, email angela@northstatebia.org, to review opportunities still available.
***
Work & Play - Be a Sponsor!
Mix and Mingle with all the golfers at your own Tee Box
Tee Box award for "Best Decorated"
If you are unable to attend there are plenty of opportunities to sponsor and gain exposure in the building industry
Sponsorships range from $150-$4000. Click here to download the event and sponsorship flyers.
Or see bottom of this email for sponsorship list.
Registration link for golfers and sponsors below.
SIGNAGE SPONSOR - FUSION SIGN AND DESIGN
***
Golfer Fee - $425
Golf Foursome Fee - $1700
Sponsorships are still available, $150-$5000
Contact Angela for more information.
8:00 am - Tee Box Sponsor Arrival, Set up by 9:45am, so you can join the Breakfast Corral Mixer
8:30 am - Golfer Check-in, Breakfast Burritos, Bloody Mary Bar, Buy Raffle Tickets, Pick Up Pro Shop Cert & Shop, Pick Up Your Boxed Lunch
10:00 am - Tee Time for Shotgun Scramble, Don't forget your boxed lunch
Approximately 4:30 pm - Golfing ends, No-Host Happy Hour in the Clubhouse with pizza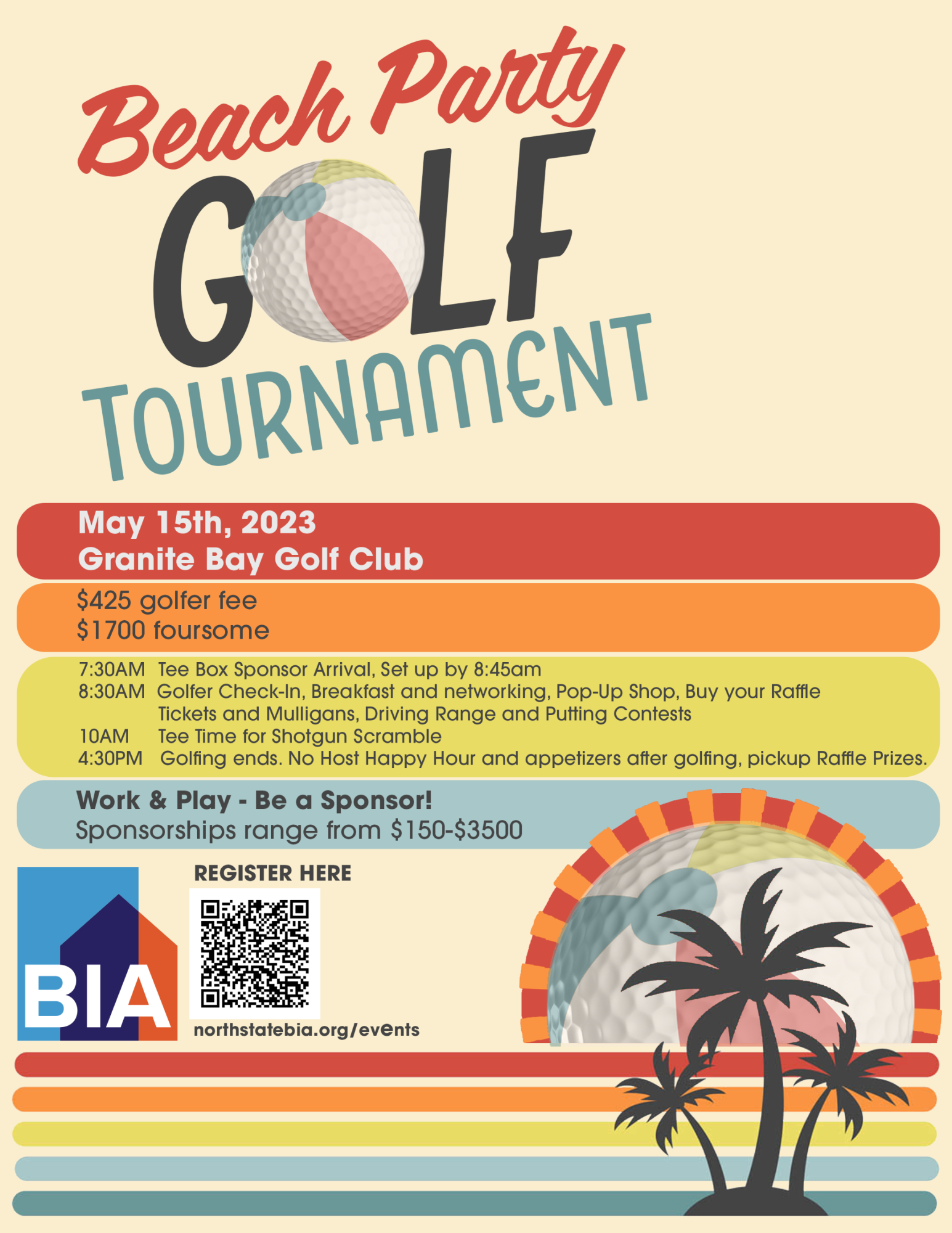 SPONSORSHIPS
Beach Party Golf Tournament
May 15th, 2023 @ Granite Bay Golf Club
Sponsorships with a Tee Box includes two-seater golf cart and two lunch boxes.
You are strongly encouraged to serve food and/or drinks at your Tee Box and decorate in the "Beach Party" theme.
Sponsorship levels:
Custom Pin Flag, $4000, Limit 1 Sponsor – Your logo displayed on pin flags at each hole. Also includes Tee Box and one golf foursome. (Deadline: April 15, 2023)
Custom Golf Ball Marker/Poker Chip & Tees, $3500, Limit 1 Sponsor – Your logo printed on the chip and provided to each golfer. Also includes Tee Box and one golf foursome. (Deadline: April 15, 2023)
Premier, $3000, Limit 2 Sponsors – Tee box, one golf foursome, and recognition on each golfer rules sheet.
Golf Cart, $2500, Limit 2 Sponsors – One golf foursome, and logo on each golf cart.
Morning Bloody Mary & Mimosa Bar, $1500, Limit 1 Sponsor – We provide the unstocked bar area next to the Registration Table, you provided all the fixings (Champagne, OJ, BM Mix, Olives, Pepperoncini, Vodka, logo cups, etc.) for Bloody Mary's and Mimosas.
Tee Box, $650 – Decorate your Tee Box the theme and interact with every golfer throughout the day! You are strongly encouraged to serve food and/or drinks. Insurance certificate will be required. Options to host the following specialty tee boxes:
Beat the Builder, $2000
Golf Ball Launcher, $1500
Hole in One, $1000, price may vary depending on prize
Closest to the Pin, $700
Longest Drive, $700
Beverage Cart, $750, Limit 4 Sponsors – Provide your own drinks and snacks to hand out to participants as you drive around the course in your own golf cart. Golf cart included. Encourage you to decorate your cart and have fun.
Lunch Box, $600, Limit 2 Sponsors - Your logo featured on box lunches to be distributed to all golfers.
Pro Shop Gift Cert, $500, Limit 4 Sponsors - Your logo featured on gift certificates handed to each golfer to shop in the Pro Shop.
Hydration Station, $400 – Signage at three water/soda/gatorade (non-alcoholic) stations along the course.
Raffle, $350 - Your logo displayed on raffle prize tables.
Driving Range, $325, Limit 1 Sponsor - Sole use of driving range prior to tee time (8:30am-10:00am) to promote your company via signage, giveaways, etc. Provide prize for Driving Range Contest winner. We provide you with 6' table and 2 chairs.
Breakfast & Happy Hour, $300 - Your logo displayed in the breakfast area and at the appetizer station at the post-golf happy hour.
Putting Green, $275, Limit 1 Sponsor - Sole use of putting green prior to tee time (8:30am-10:00am), Host putting green contest and provide prize for winner - Be as creative as you'd like! We provide 6' table and 2 chairs, and you provide the fun.
Hole Signage, $250 - Your logo on signage at a hole (can purchase multiple signage sponsorships.
Greens, $100 - Your logo on signage along the green (can purchase multiple signage sponsorships)
Granite Bay Golf Club



Granite Bay

,

CA

95746

United States



Monday, May 15, 2023 (9:00 AM - 3:00 PM) (PDT)
8:00 am - Tee Box Sponsor Arrival, Set up by 8:45am 8:30 am - Golfer Check-in, Breakfast Burritos, Nike Pop Up Shop, Buy your Raffle Tickets and Mulligans, Driving Range and Putting Contests 10:00 am - Tee Time for Shotgun Scramble 4:30 pm - Golfing ends, Happy Hour and Food after event with both courses